Versatility

for every project

3 SIZES

3 PRIVACY LEVELS

Available in a myriad of beautiful patterns ranging from natural to geometric, OUTDECO panels offer endless possibilities for outdoor and indoor installations.
600mm
1200mm
OUTDECO Decorative Modular Panels can be repetitively 'tiled' in landscape or portrait configurations to create a variety of installation sizes and architectural effects.
For an aesthetic that complements your space design, panels can be left unfinished to weather to their natural patina, or finished with a stain or paint of your choice.
600mm
600mm
1200mm
1200mm
600mm
600mm
Size 600x1200mm
MahjongTM
60% Privacy
600x1200mm
Leaf StreamTM
60% Privacy
600x1200mm
BungalowTM
80% Privacy
600x1200mm
LanternTM
80% Privacy
600x1200mm
OsakaTM
80% Privacy
600x1200mm
WooloomaiTM
80% Privacy
600x1200mm
MarakeshTM
80% Privacy
600x1200mm
NestTM
80% Privacy
600x1200mm
HerringboneTM
80% Privacy
600x1200mm
GondwanaTM
90% Privacy
600x1200mm
OrchardTM
90% Privacy
600x1200mm
Star AnaisTM
90% Privacy
600x1200mm
CumulusTM
90% Privacy
600x1200mm
Size 600x1800mm
ByronTM
80% Privacy
600x1800mm
Star JasmineTM
80% Privacy
600x1800mm
ModinaTM
90% Privacy
600x1800mm
Mountain AshTM
90% Privacy
600x1800mm
Size 1200x1800mm
DaintreeTM
80% Privacy
1200x1800mm
StonefieldTM
80% Privacy
1200x1800mm
EmpireTM
90% Privacy
1200x1800mm
OrientTM
90% Privacy
1200x1800mm
MonsoonTM
90% Privacy
1200x1800mm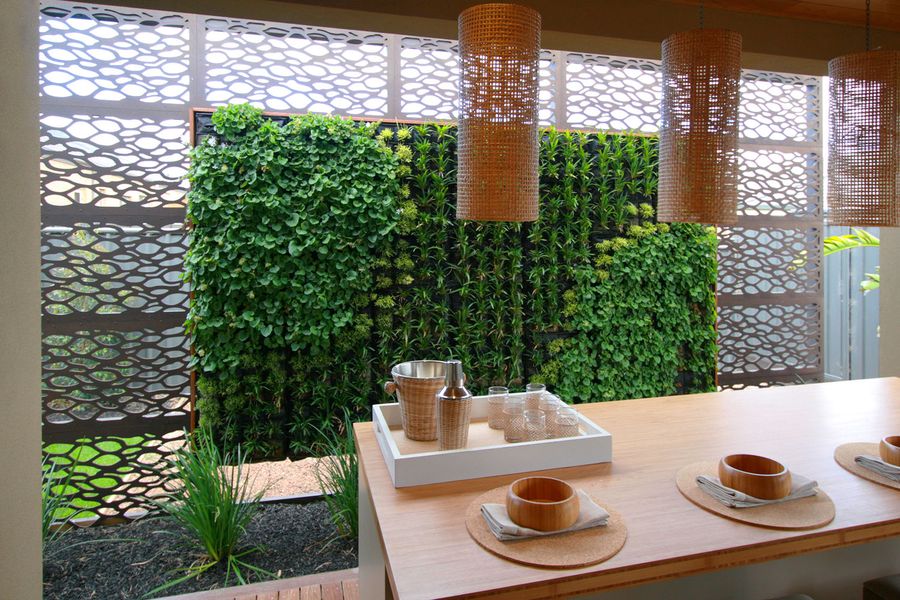 60% Privacy
These light, open designs are designed less for privacy, more for partial visual partitioning and to create playful effects of light and shadow within an outdoor/indoor space.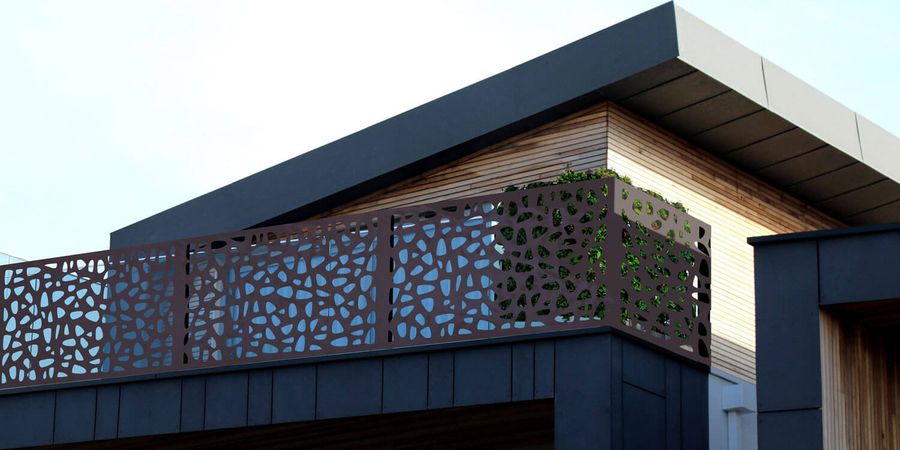 80% Privacy
With a moderate to high level of privacy, these designs offer the most versatile and desired balance of privacy and 'openness' for many applications. The 80% privacy ratio is directly relevant to many building and boundary applications that require specific compliance. There is a broad range of distinct visual styles for your specific project. In the universal backyard scenario of dealing with an ugly paling fence or utility, these designs can both cover the existing fence as a new facade and extend-up beyond the existing height so that the fence and neighbours are out of your sight, and the entire extent of space is utilised.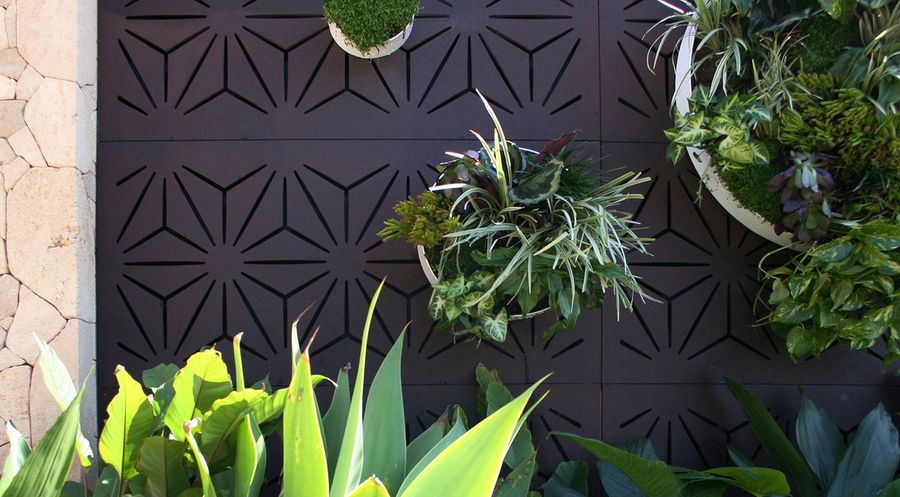 90% Privacy
A privacy level that compares to traditional decking timber slat screens or louvered features. The slots are of minimal width, so that at an indirect angle you can not see through, and at a direct angle you can only see tiny slithers of light. Private entrances, high privacy fences, yard fences are great applications. They are also great for cladding and boxing features; planter boxes or retaining walls, bench-seats storage boxes.
10 year warranty
10-Year Warranty against material rot, bloat, and delamination, under normal outdoor 'run-off' conditions. Panels must be mounted as a vertical plane, not submerged or in constant contact with water, soil, or chemicals. Not a freestanding structural product. Directions must be followed. Installations are the responsibility of the installer.
Certifications
Test for Heat and Smoke Release Rates for Materials and Products and Simultaneous Determination of Ignitability,Flame Propagation, Heat Release and Smoke Release , regulation ASNZS 3837 και ASNZS 1530.3, Australia.
Construction in bushfire-prone areas for construction of Bushfire Attack Levels, regulation AS3959 BAL19, Australia.
Dynamic Windload Tesing, regulation California AAMA 501.1-05, USA.
Test for surface burning characteristics of building, regulation California ASTM E 84-15b, USA.
CE Certification, EN 13986 : WOOD - BASED PANELS FOR USE IN CONSTRUCTION - CHARACTERISTICS, EVALUATION OF CONFORMITY AND MARKING
Important information
©Copyright OUTDECO®. All copyrights are retained. All patterns, designs, ideas and material are the intellectual property of OUTDECO®. Transfer, reproduction or modification for any purpose other than the exclusive promotion of OUTDECO® products are banned. They are provided on request, to dealers and authorized agents, to use only for special promotion of OUTDECO® products, forbidding promotion or sale of any panel products with similar appearance, material, finish or size. We reserve the right to limit or request the removal of this material in 24 hours, where we consider that there is an infringement. Please contact [email protected] if you need any further information or content.